CoolSculpting Elite: Freeze Away Stubborn Fat in MA
CoolSculpting is the innovative fat-freezing treatment that reduces annoying bulges without surgery or downtime. This non-invasive alternative to liposuction deploys controlled cooling to target fat cells that resist diet and exercise and cling to the body in the form of belly fat, love handles, double chins, and fat on the arms and thighs. Treatments are relatively painless, take as little as 35 minutes, and require no downtime, so patients may immediately return to their normal activities following their treatment. Results are noticeable, natural-looking, and long lasting.
The New England Center for Body Sculpting is proud to offer the newest in CoolSculpting technology, CoolSculpting Elite. The updated design of CoolSculpting Elite now features dual applicators that allow your provider to sculpt two areas simultaneously. You can now reduce the number of appointments recommended by your treatment plan, getting you closer to your final results!
CoolSculpting Elite also features remodeled C-shape curved applicators that allow for a better fit against the contours of your body. This improved fit permits up to 18% more cooling coverage in the treatment area. We are committed to providing our discerning clientele with the most up-to-date body contouring available and as such we are one of the first locations in the area to feature the new CoolSculpting Elite experience.
Join the millions of men and women who have frozen away their stubborn bulges and contoured fit, skinny-looking physiques by contacting the New England Center for Body Sculpting, the premier CoolSculpting provider in Massachusetts. Conveniently located near the greater Boston, Newport, Providence, or Cape Cod areas in Massachusetts, New England Center for Body Sculpting is the top choice for discerning patients who prioritize experience and expertise to obtain the best results possible. Call (508) 947-2852 today or schedule a complimentary consultation online.
Benefits of Fat Freezing with Coolsculpting
#1 non-invasive fat reduction treatment in the world
Scientifically developed and FDA cleared
Safe and effective
Fast treatments with no downtime
Natural-looking fat reduction
Long-lasting results
Contour attractive curves and define musculature
How Does Coolsculpting Elite Work?
CoolSculpting eliminates adipocytes (fat cells) by freezing them to death. During a scientifically proven¹ process known as Cryolipolysis, an applicator is positioned over a stubborn bulge. The applicator gently pulls subcutaneous fat cells towards the skin's surface and exposes the area to precisely controlled cooling. This cold temperature chills the underlying fat cells but does not harm the surrounding skin or tissue. Chilling these fat cells causes them to crystallize and rupture. This triggers the body's immune system to collect the destroyed fat cells. Over a span of several months the fat cells are metabolized and eventually excreted from the body as waste, resulting in visible reductions of fat that look natural and last.²
CoolSculpting Before and After Pictures*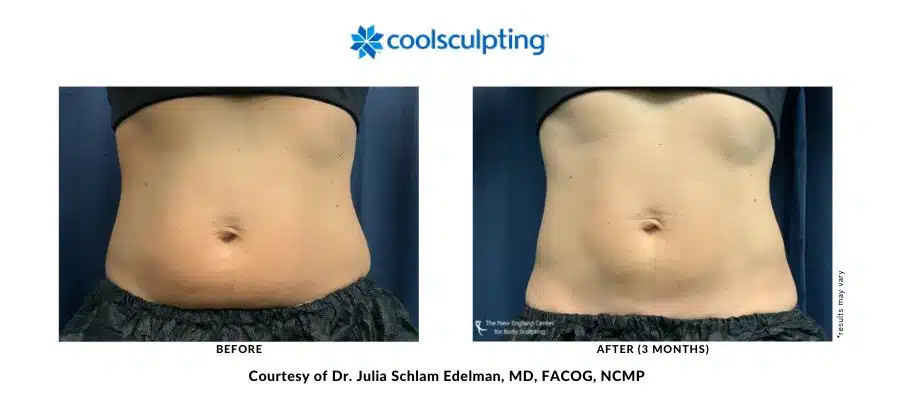 Treat to Complete: The New CoolSculpting Treatment Protocol
The fat-freezing treatment taking the world by storm is only getting better. The newly developed CoolSculpting "Treat to Complete" protocol centers personalized treatment plans around one thing: results. The Treat to Complete protocol typically consists of two sessions.
The first session of CoolSculpting focuses on debulking the treatment area. The second session focuses on sculpting the treatment area.
During each session, you will undergo a series of treatments. The number of treatments depends on your personalized treatment plan.
Personalized Treatment Plans
The Treat to Complete protocol begins with a one-on-one consultation with a CoolSculpting expert from the New England Center of Body Sculpting. This consultation includes a comprehensive assessment to ensure you are a good candidate for the fat freezing procedure. Being a suitable candidate is essential for obtaining optimal results.
If CoolSculpting is right for you, we will identify the area of your body that causes you the most concern. We will focus solely on transforming this area. We will discuss exactly what CoolSculpting can and cannot do for your chosen treatment area to ensure realistic expectations.
Real Results with Treat to Complete
A clinical study evaluated the efficacy of the Treat to Complete protocol. The study surveyed patient satisfaction and found:
86% of patients reported a "noticeable" or "very noticeable" fat reduction in the treated areas.
97.2% of patients reported their clothes fit better over the treated areas.
Nine out of ten patients reported being "satisfied" or "very satisfied" with their CoolSculpting treatment.
82% of patients said they would recommend CoolSculpting to a friend.
Charting Your Progress: Before, During, and After Photos*
Pictures of CoolSculpting results, taken before, during, and after two sessions demonstrate an amazing progression of fat reduction. Notice the debulking that occurs after the first session and the definition the occurs once completing the second session. As with any cosmetic procedure, results may vary.*
CoolSculpting Treatment Areas
Freezing away bulges not only reduces fat but also defines musculature and sculpts attractive contours to leave you with a slim, sculpted body. Currently, CoolSculpting is FDA-cleared to treat the following areas:
 Flanks (love handles)
 Abdomen (belly fat)
 Inner and outer thighs
 Upper arms
 Back fat/bra fat
 Underneath the buttocks (banana roll)
 Above the knee
 Under the jawline
 Under the chin
CoolSculpting Elite Results*
Freezing fat cells is shown to result in long-term fat reduction. Unlike weight loss treatments that simply shrink fat cells (preserving their potential to expand if the patient regains the lost weight) CoolSculpting is a fat reduction treatment. Once fat cells are processed out of the body, they cannot grow back. This long-term fat reduction was demonstrated in a longitudinal study published in the Journal of Cosmetic Dermatology. The study followed Cryolipolysis patients over nine years and reported "local reductions in fat [after a single treatment] have significant longevity in these subjects and suggest that results from Cryolipolysis may be very long-lasting." The researchers also noted, "Despite weight changes over the years, the treated [area] showed a persistent reduction in size and a change in contour. The patient gained 10.0 lbs. at his 2‐year follow‐up visit and still displayed reduced fat thickness."³
Experience Matters When It Comes to Fat Freezing
EXPERIENCE and REPUTATION: Body sculpting is a technique sensitive procedure. This means that your provider greatly influences your overall experience and your ultimate results. Therefore, it is very important to prioritize training and expertise when choosing a provider in Massachusetts.
Most other Boston CoolSculpting providers are med spas, but New England Center for Body Sculpting is reputable medical practice, specializing in Gynecology and feminine treatments, with over 25 years of experience. Led by Doctor, and renowned author, Julie Edelman, MD, each candidate is carefully vetted, and each treatment plan is uniquely customized by our highly trained and experienced medical team.
THE LATEST IN FAT FREEZING TECHNOLOGY: To provide its patients with the best experience in MA, New England Center for Body Sculpting invests in the latest technologies from Zeltiq (the makers of CoolSculpting.) Two separate CoolSculpt machines provide patients with the opportunity for Dual Sculpting (treating twice the area in half the time.) In addition, the latest line of applicators shortens most treatment times to 35 minutes, improve comfort, and permit the freezing of smaller, more isolated fat deposits, such as a double chin with the CoolMini applicator. In addition, New England Center for Body Sculpting has the full CoolAdvantage collection line of new Cool Sculpt applicators.
HIGHLY SKILLED TECHNICIANS: Our experts are certified technicians and graduates of CoolSculpting University. Our patients know that by choosing New England Center for Body Sculpting, their treatment is performed by the highest caliber of CoolSculpting MA providers.
SAVINGS ON COOLSCULPTING COST: Treatment prices at New England Center for Body Sculpting are highly competitive. New clients receive $400 dollars off CoolSculpting cost of four or more treatment cycles.
THE COOLSCULPTING RESULTS PROMISE: For twenty-five plus years, our practice has always put patients first. With CoolSculpting, it is no different. We know that patients love the idea of lasting fat reduction in areas that are hard to target with diet and exercise. But of course, people don't love the idea of investing time and money into a procedure that doesn't work! This is why we created our CoolSculpting Results Promise.
At New England Center for Body Sculpting, we stand behind the fat freezing technology 100%. Over 6 million treatments have been done worldwide. People you know are walking around on a daily basis looking and feeling better because they stopped hoping for results and took action with CoolSculpting instead.
We stand behind our experts' work. In fact, we are so confident in getting our clients results that we developed our CoolSculpting Results Promise, so all our clients must lose is stubborn and unwanted fat.
During your complimentary consultation, ask more about our CoolSculpting results promise.
Coolsculpting® FAQ
How much does CoolSculpting Elite cost in Massachusetts?
CoolSculpting cost varies per patient, depending on their individual needs, treatment areas, and how many cooling cycles are requested. During your complimentary consultation with Dr. Julia Edelman, prices and available payment options will be covered in detail. If this treatment offers an ideal solution for your body contouring needs, your CoolSculpting consultant will help you customize a treatment plan that meets your needs and matches your budget.
How many CoolSculpting sessions will I need?
According to a clinical study, "cryolipolysis reduces subcutaneous fat at the treatment site by up to 25% after one treatment."¹ Although significant fat reduction can be achieved following a single fat freezing treatment, individual experiences may vary, and most patients opt for more treatments to obtain their desired aesthetic.*
When will I see my CoolSculpting results?*
Every patient's experience is different, but typically, you will begin to see visible fat reduction in the treatment area within 8 to 12 weeks following your treatment. Since the body continues to flush fat cells, the treated area can continue to reveal results up to six months post-treatment. Additional treatments may be performed for greater reductions of fat.*
Does CoolSculpting Elite help with weight loss?
CoolSculpting is not a weight loss treatment. It is a fat reduction treatment intended for healthy individuals who struggle with fat deposits that resist diet and exercise.
Will CoolSculpting Elite help with diabetes?
CoolSculpting is not a weight loss treatment and does not replace the need to live a healthy lifestyle through regular exercise and diet. CoolSculpting does not affect diabetes.
If I am more than 30 pounds overweight, what will CoolSculpting do for me?
This treatment is intended for healthy adults. It may not be suitable for individuals who are very overweight. The best way to find out if fat freezing is right for you is to schedule a complimentary consultation.
While freezing fat cells is great for reducing belly fat, results vary per patient. The best way to determine if this treatment will deliver the results you are looking for is to schedule a complimentary consultation.
Experience the Best CoolSculpting Elite in Massachusetts
Get started with CoolSculpting Elite today by contacting New England Center for Body Sculpting, the premier CoolSculpting MA provider. New England Center for Body Sculpting is proud to serve the men and women of Middleboro, MA as well as the surrounding communities of Easton, Sharon, Westport, Mansfield, and Fall River. Call (508) 947-2852 or sign up for a complimentary consultation by filling out the online form below.
Get up to
50% off
Coolsculpting Elite
By submitting this form you agree to be contacted via phone/text/email.
*Must purchase 8+ treatments to qualify for 50% Off CoolSculpting Elite.
Disclaimer:
**CoolSculpting® is FDA-cleared to treat visible fat bulges in 9 areas of the body. Some common side effects include temporary numbness, discomfort, and swelling.
*Promotions: Get up to 50% off CoolSculpting can only be applied to the purchase of 8+ treatments. Promos cannot be combined with other offers. Exclusions apply.
Get up to
50% off
Coolsculpting Elite
By submitting this form you agree to be contacted via phone/text/email.
*Must purchase 8+ treatments to qualify for 50% Off CoolSculpting Elite.