New Client Special
$50 off
Please call (508) 947-2852 or fill out the form below.
By submitting this form you agree to be contacted via phone/text/email.
NON-SURGICAL VAGINAL REJUVENATION WITH THERMIVA
Vaginal Rejuvenation with ThermiVa is a popular, non-invasive solution for addressing the intimate concerns that many women experience, especially after childbirth or post-menopause. Unlike the "vagina laser" or "revirginizing laser," made famous by celebrities like Kim Kardashian, ThermiVa uses innovative Radio Frequency (RF) technology. While lasers burn, RF gently heats the collagen beneath the vaginal wall surface. This remodels, strengthens, and tightens both external and internal tissues, such as stretched or sagging labia tissue or weakened vaginal tissue. Not only is ThermiVa FDA cleared and scientifically proven, treatments are also fast, painless, and require no downtime, making it an ideal non-surgical alternative to a vaginoplasty or labiaplasty.
Take back control of your feminine health and wellness and find out if ThermiVa, non-surgical vaginal rejuvenation, is right for you by scheduling a consultation with Dr. Julia Edelman, of Edelman MD. Conveniently located in Middleboro MA, Edelman MD is a leading ThermiVa provider in Southeastern Massachusetts and is proud to serve the women of Middleboro, Easton, Sharon, Westport, Mansfield, Bridgewater, Raynham, Dighton and Dartmouth. Contact Edelman MD online or call (508) 947-0800 today.
BENEFITS OF VAGINAL REJUVENATION WITH THERMIVA
Non-surgical alternative to vaginoplasty or labiaplasty
Treats both external and internal tissue for comprehensive rejuvenation
Tightens loose or weakened vaginal tissue
Tightens + tones stretched or sagging labia
Immediate results + progressive improvement.
Softer, smoother more youthful appearance
Improve stress urinary incontinence
Improve vaginal dryness
Restore confidence & improves sexual gratification
FDA cleared & scientifically proven as safe & effective
New Client Special
$50 off
By submitting this form you agree to be contacted via phone/text/email.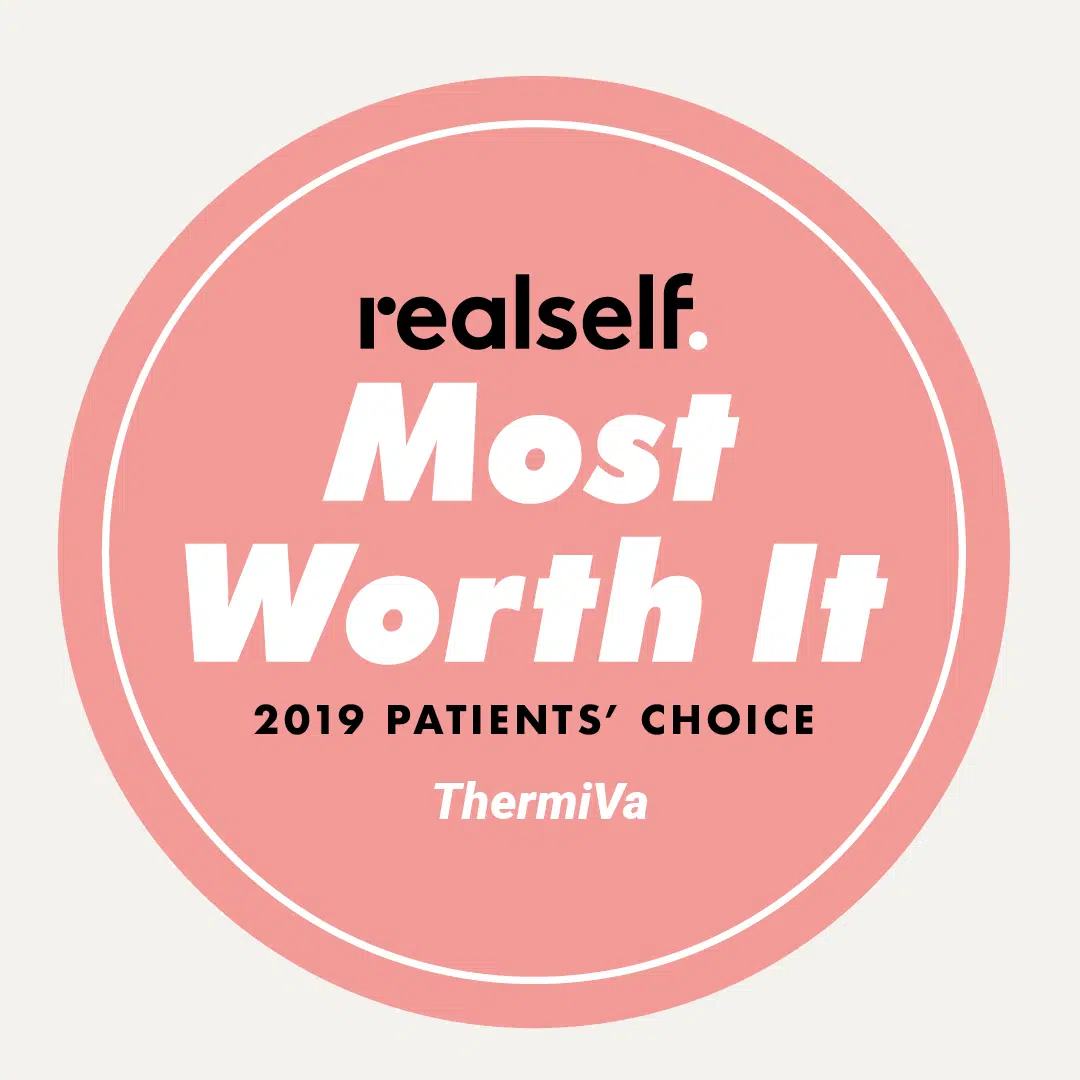 WHAT CAUSES VAGINAL LOOSENESS?
With age comes change. And no part of the body is left untouched by the effects of time. This is especially true for women in regards to their feminine health and well-being. Collagen and elastin, the structural proteins that keep our skin taut, firm, and in place, begin to break down as we get older. This leads to weakened tissue, sagging skin and tone and texture irregularities (like wrinkles.) In additional to intrinsic causes, such as childbirth can stretch or tear existing collagen and elastin fibers, which can alter the appearance and function of the labia (inner and outer lips), and vagina (birth canal.)
HOW DOES THERMIVA WORK?
THERMIVA uses advanced Radio Frequency (RF) energy to rejuvenate the external and internal vaginal tissues. The RF energy penetrates the tissue with thermal energy, stimulating the production of new collagen and elastin. In addition, heating the tissue with RF energy causes existing collagen and elastin fibers to contract (shrink and tighten.) This helps to tighten labial hypertrophy (visible sagging or "camel toe") as well as vulvar laxity or vaginal "looseness." In addition to tightening, new collagen resurfaces skin tone and texture, so the outer appearance looks firmer, smoother, and more youthful.
COMPREHENSIVE FEMININE REJUVENATION
THERMIVA is a comprehensive solution for several feminine health concerns that often occur following childbirth, aging, or cancer treatments. In addition to tightening the labia and other external tissues, THERMIVA improves a range of conditions associated with vaginal atrophy, including:
Mild Urinary Incontinence
Internal and external laxity
Vaginal Dryness
Reduced blood flow
Reduced sensitivity during sex
Textural irregularities of the vulva and labia
Pain during intercourse
THERMIVA REVIEWS IN SCIENTIFIC LITERATURE
ThermiVa reviews found in academic journals provide scientific backing for the safety and efficacy of non-surgical vaginal rejuvenation using RF energy. One study, published in the International Journal of Women's Dermatology studied a test group of women with "mild to moderate vulvovaginal laxity, sexual dysfunction, and mild to moderate stress urinary incontinence." Following three treatments with ThermiVa, the study reported, "All patients experienced a tightening result immediately after the first treatment with a significant change in the vaginal laxity score by 3 points on a 7-point scale at the second treatment visit. Significant improvement in sexual satisfaction and decrease in urinary incontinence was also noted. Treatments were well tolerated, and no adverse effects were reported."¹
HOW MUCH DOES THERMIVA COST?
THERMIVA cost varies depending on the customized parameters of the patient's treatment plan, such as the number of treatments prescribed to obtain optimal results. If you are a good candidate for THERMIVA, Dr. Edelman will help you design a treatment plan that meets your needs and matches your budget.
THERMIVA RESULTS
ThermiVa is a non-invasive and non-surgical option to treat laxity and feminine wellness. Patients may resume their normal activities, including sexual intercourse and exercise, immediately after treatment. ThermiVa results are both immediate and progressive. Many patients see a change in an appearance soon after their first treatment. Changes to the connective tissue and functional improvements will progressively manifest for several weeks following your treatment. Some patients are satisfied following a single treatment, however individual experiences vary and many patients opt for 3 treatments for optimal results. Tightening and improvements to tone and texture are long-lasting with most patients enjoying their results for a year or longer.*
THERMIVA VAGINAL REJUVENATION NEAR ME
Edelman MD is the premier provider of non-surgical vaginal rejuvenation in Southern Massachusetts. Discerning patients appreciate the experience and expertise in female health and wellness they receive from Dr. Julia Edelman, a renowned gynecologist and certified menopause specialist, and trusted authority in gynecological medicine. Schedule a consultation with Edelman MD today to discover if ThermiVa is right for by contacting us online or calling (508) 947-0800.
New Client Special
$50 off
By submitting this form you agree to be contacted via phone/text/email.
*$50 off offer applies to the purchase of a package