Emsculpt NEO Butt Lifts
One of the most coveted physical features is a plump, voluptuous backside. Before, clients would turn to invasive surgeries to help make their butt-lift dreams come true. While surgical butt enhancements do work, they also come with many downsides like risks, pain, and a lengthy recovery period. Thankfully, now clients wanting a butt-lift experience can choose a painless, non-surgical butt lift with Emsculpt NEO.
Read on to learn more about Emsculpt NEO and how it improves the look of the buttocks, providing a safe butt lift alternative free from surgery or fillers.
Emsculpt NEO Explained
Emsculpt NEO is the first treatment of its kind. With FDA cleared to use both electromagnetic (HIFEM) and radio frequency (RF) energies, Emsculpt NEO shapes the butt unlike any other cosmetic treatment in the industry. This new treatment helps improve the look of the buttocks by reducing stubborn fat that accumulates under the butt, also known as a banana roll. In addition, treatments firm and add a subtle lifting effect to the glutes for a painless, effective butt-lift.
Related Article: Emsculpt NEO for Thighs >>
Does Emsculpt NEO Work on the Buttocks?
Emsculpt NEO is cleared to firm and tone the buttocks. This non-surgical butt lift option uses advanced technology to stimulate powerful contractions in the glutes. Each treatment uses HIFEM or High-Intensity Focused Electromagnetic energy to induce supramaximal contractions. The penetration is entirely painless. The contractions strain the muscle tissue, causing the body to adapt to the stress by creating new tissue fibers and strengthening the existing fibers.
First, Emsculpt NEO creates new tissue providing the volumetric growth needed to achieve a plumper backside. Second, strengthening the existing tissue improves muscle tone, creating a subtle lifting effect on the booty.
In addition to the HIFEM, the Radio Frequency (RF) energy heats the subcutaneous fat cells below the skin. This energy effectively damages and destroys any stubborn fat cells in the buttocks, providing a leaner, firm-looking butt.
Related Article: Emsculpt NEO Cost >>
The 30-Minute Non-Surgical Butt Lift
Emsculpt NEO induces supramaximal contractions, which are also known as "superhuman" contractions. During the convenient 30-minute procedure, the HIFEM energy induces more than 20,000 contractions in the glutes. To manually accomplish this, a person would have to do 20,000 squats. Both men and women turn to Emsculpt NEO because it enhances and strengthens their physique in a superhuman way impossible to achieve through manual gym exercise alone.
Emsculpt NEO on Butt Before and After Results*
EMSCULPT NEO before and after buttocks treatment pictures show the  effects of this muscle building treatment. As with any body shaping treatment, results may vary.* For the best outcome possible, patients should always choose a reputable and experienced Emsculpt NEO provider to perform this technique sensitive procedure.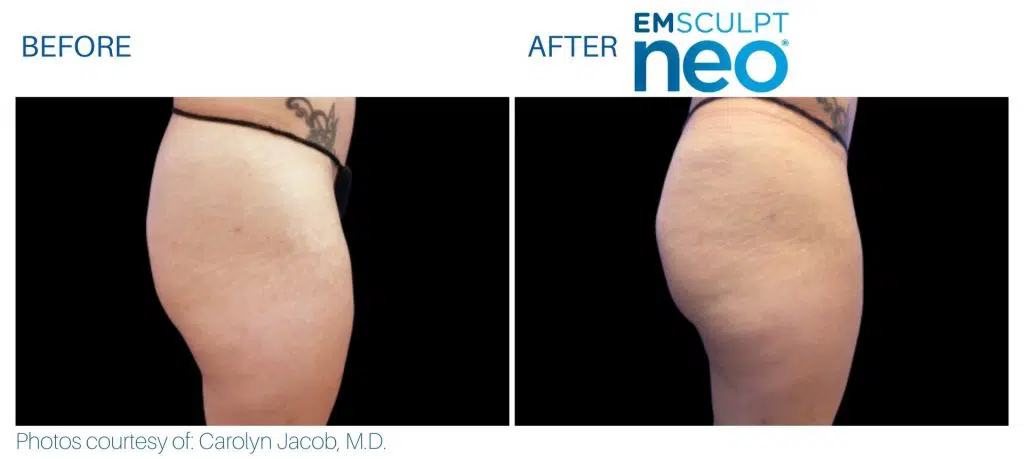 Emsculpt NEO Butt Treatment Near Me
If you want to experience a BBL without surgical drawbacks, Emsculpt NEO is your treatment. To learn more about the popular non-surgical butt-lift option, contact the New England Center for Body Sculpting. We are a premier provider of Emsculpt NEO for residents living near greater Boston, Middleboro, Newport, Providence, or Cape Cod area. Book your consultation by contacting the center online or calling 508-947-2852 today.
SCHEDULE A FREE EMSCULPT NEO CONSULTATION
Please call 508 947-2852 or fill out the form below.
By submitting this form you agree to be contacted via phone/text/email.