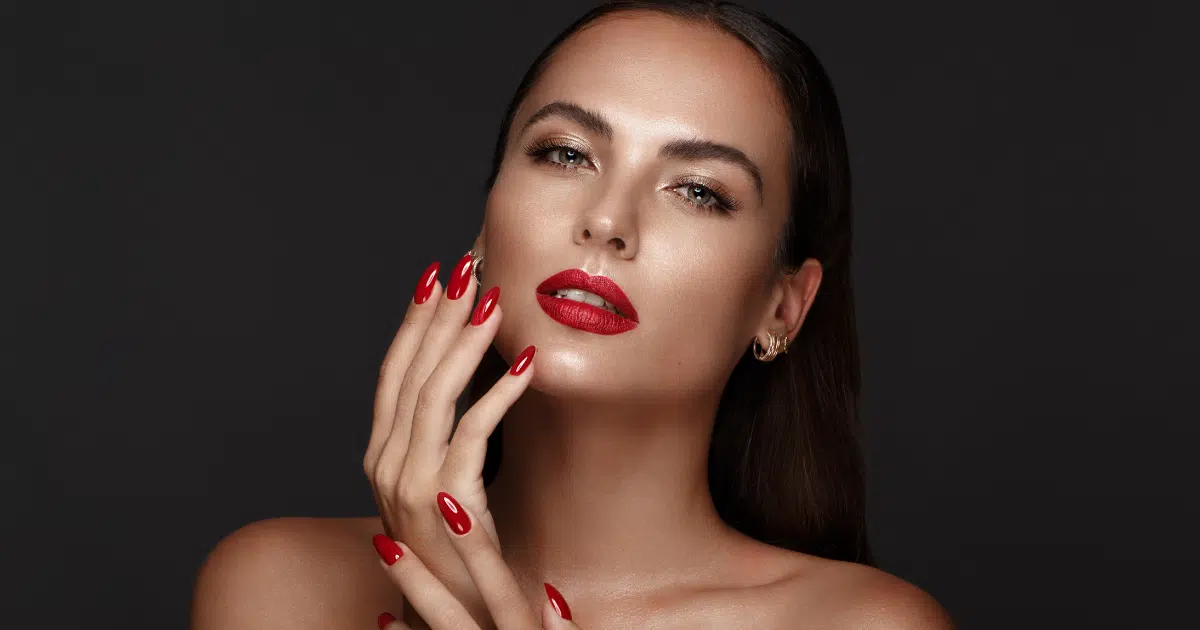 EMFace vs Morpheus8: Which Non-Surgical Facelift is Better?
Forget surgical facelifts — tightening and smoothing your appearance for the most youthful skin of your dreams is now possible without costly surgery, lengthy downtime, and potential risky side effects. Enter, EMFace and Morpheus8!
Thanks to the latest non-surgical advancements, reversing the biological signs of aging with non-surgical facelift procedures such as EMFace and Morpheus8 is possible. Each procedure uses cutting-edge technologies, including radiofrequency (RF), to stimulate collagen production and improve wrinkles, fine lines, and sagging skin. EMFace also ads electrical stimulation to increase muscle stimulation and support of the facial structures. By rejuvenating the skin, these treatments help individuals achieve firmer, tighter skin without going under the knife.
Are you considering one of these popular facial rejuvenation procedures? Keep reading to learn more about the similarities and differences between these two non-surgical facelift alternatives and whether EMFace or Morpheus8 is better.
The Benefits of a Non-Surgical EMFace Facelift
Unlike a traditional facelift involving surgery, anesthesia, incisions, and scarring, EMFace is a safe, convenient, non-invasive procedure. Both radiofrequency (RF) and electrostimulation (HIFES) technology are used to remodel and smooth sagging skin while increasing collagen production. Additional benefits of EMFace include:
Lifted facial contours
Improvements to skin smoothness
Reduction in fine lines and wrinkles
Improvements to muscle tone
Increased collagen levels
Improvements to facial symmetry
Non-surgical
No needles
No pain
Filler-free and toxin-free
Quick, convenient sessions
No recovery or downtime
FDA-cleared
No skin type or tone restrictions
In general, an EMFace treatment session is quick and convenient, taking about 20 minutes to complete. A four-session treatment plan is recommended for best results, scheduled 5-10 days apart.
The Benefits of Morpheus8 Facelift
Morpheus8 is a versatile treatment that tackles common skin imperfections while correcting uneven skin tone and rough texture. The treatment fuses microneedling with radiofrequency technology to encourage collagen production. In addition, Morpheus8 contours the face for a firmer appearance.
Other Morpheus8 benefits include:
Contours the body and face
Safe and effective for most skin types
Low risk of post-inflammatory hyperpigmentation
Improvement in skin tone and texture
Cutting-edge fractionated RF energy
Boosts collagen production
Corrects fine lines, wrinkles, and creases
Improvements to stretch marks and blemishes
No downtime
Minimally invasive
4mm needle penetrates the deepest dermis layer
Versatile treatment for most parts of the body
On average, a Morpheus8 treatment takes 30 minutes to 1 hour to complete. A series of up to 4 Morpheus8 treatment sessions is recommended for optimal results. However, this depends on the condition of the skin.
EMFace vs. Morpheus8 Facelift
EMFace and Morpheus8 offer a convenient, less intrusive alternative to traditional facelift surgery methods. However, EMFace is a superior non-surgical facelift option when compared to Morpheus8. Here are a few reasons why.
The primary advantage of EMFace over Morpheus8 is its effectiveness in rejuvenating the skin. Both treatments utilize radiofrequency energy to heat the facial tissues and smooth the skin while stimulating collagen and elastin production in the face. However, EMFace combines RF energy with advanced HIFES electrostimulation to target not only the skin but the facial muscles as well. By stimulating the facial muscles, it causes them to contract, tone, and lift the contours of the face. As a result, these two dual technologies work together to effectively improve the overall tone and texture of the skin while also tightening and firming the muscles.
On the contrary, Morpheus8 pairs its RF energy with microneedling. The microneedles penetrate the skin's surface, sending radiofrequency down the connective tissues. As a result, the skin gets tighter when the energy heats the tissues, and the body creates more collagen. While the micro injuries produced by microneedling effectively induce collagen production and fat remodeling, they do not target the facial muscles to produce the lifting results that EMFace does.
Another reason EMFace is a better non-surgical facelift option, is that it is a painless treatment process. Unlike Morpheus8, which causes discomfort or slight pain, EMFace is a non-invasive treatment that requires no needles, anesthesia, or numbing cream. You relax as the electromagnetic waves gently and painlessly work their magic during the procedure. In contrast, a Morpheus8 procedure is invasive, more painful, and uncomfortable for some. This is because the treatment uses tiny needles that penetrate the deeper layers of skin to deliver radiofrequency energy. The needles feel like sharp pricks on the skin and cause pain and discomfort for many patients. Additionally, the heat from the radiofrequency energy causes a burning sensation that can be quite uncomfortable for some individuals. The pain varies from patient to patient. As a result, some individuals require numbing cream or local anesthesia to help manage it and feel comfortable.
An additional factor that sets EMFace apart from Morpheus8 is that EMFace has no downtime or recovery time. After an EMFace session, there are no side effects, and patients are free to resume their normal daily activities immediately. Since there is no need for incisions or general anesthesia, the chances of infection or adverse reactions are significantly reduced. As a result, EMFace patients have more peace of mind. However, with Morpheus8, the treatment may cause scabbing and lesions, swelling, redness, or bruising around the treated area for a few days following the procedure. There is also a risk of infection or scarring if Morpheus8 is not performed properly or if the patient does not properly care for the treated area afterward.
Cost-effectiveness is also a driving factor behind the popularity of EMFace and Morpheus8 non-surgical facelifts. Surgical procedures can be expensive due to various factors, such as the surgeon's fees, facility charges, and anesthesia costs. On the other hand, non-surgical options like EMFace and Morpheus8 tend to be more affordable, making them accessible to a broader range of individuals seeking facial rejuvenation. The cost of EMFace and Morpheus8 treatments varies for each patient. The number of treatment areas and the number of treatment sessions all influence pricing.
Individuals choose non-surgical facelifts like EMFace and Morpheus8 because they offer an effective, convenient, and more affordable way to address signs of aging without undergoing surgery. However, individuals looking for a pain-free, needle-free, and downtime-free alternative to a facelift should consider EMFace treatments to turn back the signs of aging and achieve a more radiant appearance.
Risks of EMFace vs. Morpheus8 Non-Surgical Facelift
As with any other aesthetic treatment, there are risks and side effects. However, since EMFace is a non-invasive procedure, risks and side effects are minimal, if at all. EMFace side effects include headache (more common with dehydration), dry skin, and minor temporary redness.
With Morpheus8, there is considerably more risk involved. There is a risk of infection or scarring if Morpheus8 treatment is not performed correctly or if the patient does not properly care for the treated area afterward. It is also not uncommon for patients to experience scabbing in the first few days following treatment. The scabs look like peeling or flaking skin. Additionally, swelling, redness, bruising, or tenderness around the treated area occurs for a few days after a Morpheus8 procedure.
Results of EMFace Facelift vs. Morpheus8
EMFace and Morpheus8 results vary. In terms of collagen production, this can take anywhere from 10-12 weeks, so while some patients see immediate results, gradual improvement continues to show over 3 months.
On average, EMFace clinical studies reveal impressive results. Specifically, a 26%* boost in collagen, 37%* less wrinkles, and an increase in lift by 23%. The effects of EMFace are long-lasting. EMFace results last for about one year. After a year, maintenance treatment is recommended depending on the skin condition, age of the patient, and the intensity of the treatments. On average, patients choose to receive routine touch-ups every 8-12 months to continue enjoying the benefits of EMFace treatment. In addition, there are specific EMFace aftercare tips that can help further prolong your non-surgical facelift.
Morpheus8 has been shown to be effective in clinical studies. In one study, over 90% of patients treated with Morpheus8 saw a significant improvement in their skin's appearance after just one treatment. Morpheus8 patients see improvements immediately following the procedure, with more impressive results noticeable within 3 weeks. Morpheus8 results last for up to several years. However, like EMFace, maintenance treatments are recommended depending on the patient's skin condition, age, and intensity of the treatments.
Emface Before and After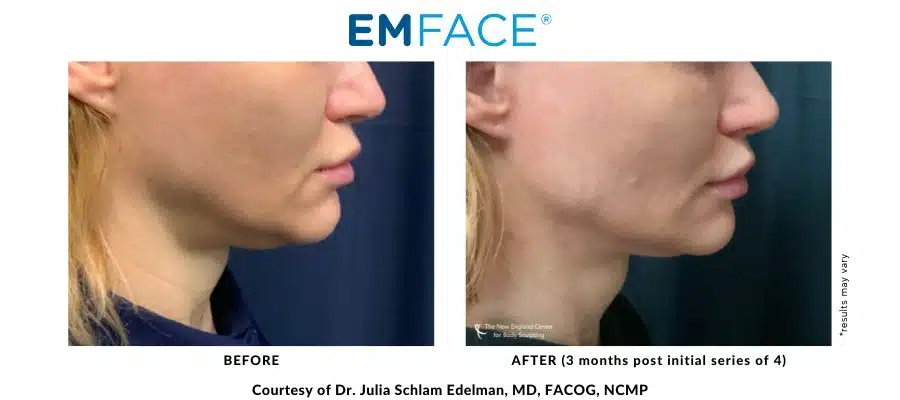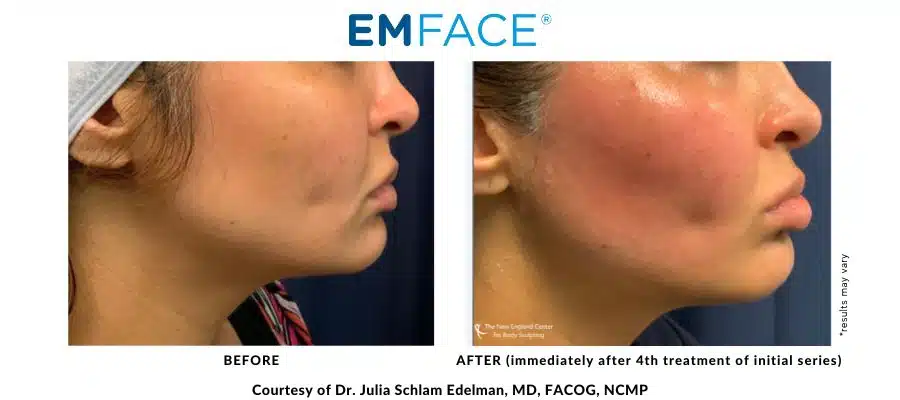 Try EMFace Facelift Rejuvenation in Southeastern MA and Greater Boston
If you want to restore a more sculpted appearance and improve sagging skin and wrinkles without surgery, EMFace is an optimal non-invasive solution. Learn more about how EMFace treatments simultaneously target your skin and muscles to lift sagging jowls and smooth out rough skin by contacting the New England Center for Body Sculpting. Dr. Julia Edelman and her team are proud to be the leading provider of EMFace in Boston, MA. Our facility is conveniently located near the 495 rotary in Middleboro and are recognized as one of the top providers of EMFace in Boston, serving the Greater Boston, Greater Providence, Newport, South Shore, Southcoast, MA, and Cape Cod areas.
Give us a call at (508) 947-2852 to book your complimentary EMFace consultation, or feel free to reach out to us online to learn more about how EMFace provides individuals with an affordable and convenient way to address the signs of aging without undergoing invasive surgery. We look forward to joining you on your facial rejuvenation journey to help you achieve smooth, radiant, and natural-looking results.
SCHEDULE A FREE EMFACE CONSULTATION
Please call 508 947-2852 or fill out the form below.
By submitting this form you agree to be contacted via phone/text/email.